A multi-year collaboration agreement has been signed between Immutable, a blockchain technology company that supports the Ethereum Layer-2 platforms Immutable X and Immutable Games Studio, and NFT.NYC, a non-fungible token (NFT) industry events organizer.
Immutable affirmed its multi-year cooperation with NFT.NYC in a press release on October 7. Immutable will assist NFT involvement with NFT.NYC events internationally as part of the new sponsorship agreement. This includes arranging tickets for the forthcoming NFT.London event on November 3.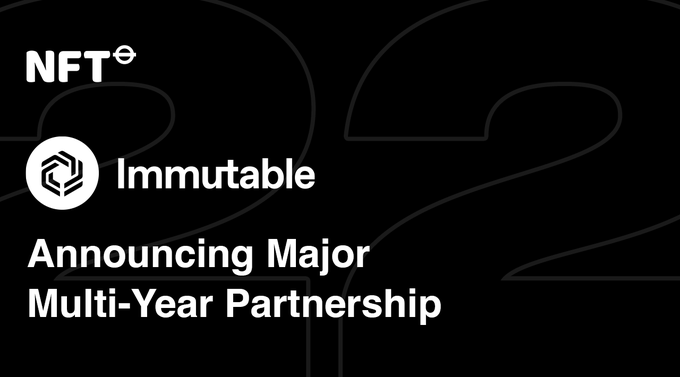 NFT.NYC Overview
In order to commemorate the breakthroughs of the emerging blockchain technology, NFT.NYC, an event organizer founded in 2019, brings together builders, brands, pioneers, influencers, developers, and NFT aficionados.
The NFT.NYC is dedicated to three key principles, including giving the NFT community a venue to discuss pertinent issues, bringing NFT enthusiasts together, and spreading awareness of the advantages of NFTs around the world.
Over 16,000 people from 72 different countries attended a massive NFT event in June that was organized by NFT.NYC and included 1500 speakers over 16 tracks. By bringing the premier NFT event to London, the United Kingdom, NFT.NYC hopes to increase the conference's worldwide impact.
NFT.NYC has welcomed more than 20,000 people, thousands of eminent speakers, and the top NFT ecosystem initiatives since its debut. In a statement made in advance of NFT.London, Jodee Rich, the co-founder of NFT.NYC, mentioned the company's new connection with Immutable:
"We are proud to partner with Immutable as the title sponsor for NFT.London and NFT.NYC. We have been deeply committed to integrating NFTs into the attendee experience since our first NFT.NYC in 2019. Immutable will play an important role in scaling those experiences to all attendees, helping us deliver unforgettable NFT moments at all of our events."
NFT.NYC To Launch NFTs
As part of the collaboration, Immutable will convert tickets for NFT.NYC events into NFTs minted on Immutable X starting in 2019. NFT "Swag Bags" were also given out to NFT. Immutable X participants in NYC will also profit.
Since the merge update successfully went live, these Immutable-minted digital assets have become the first layer 2 scaling solution for NFTs on Ethereum. They will also be completely carbon-neutral and secured with Ethereum-level security.
In a different development, Tamadoge, a coin project with a dog meme theme, has shown the first batch of its NFT collection, which includes 100 very uncommon NFTs. For the next six days, the NFT collection will be up for live auction.
Thanks to Dominic Kimani at Business 2 Community whose reporting provided the original basis for this story.